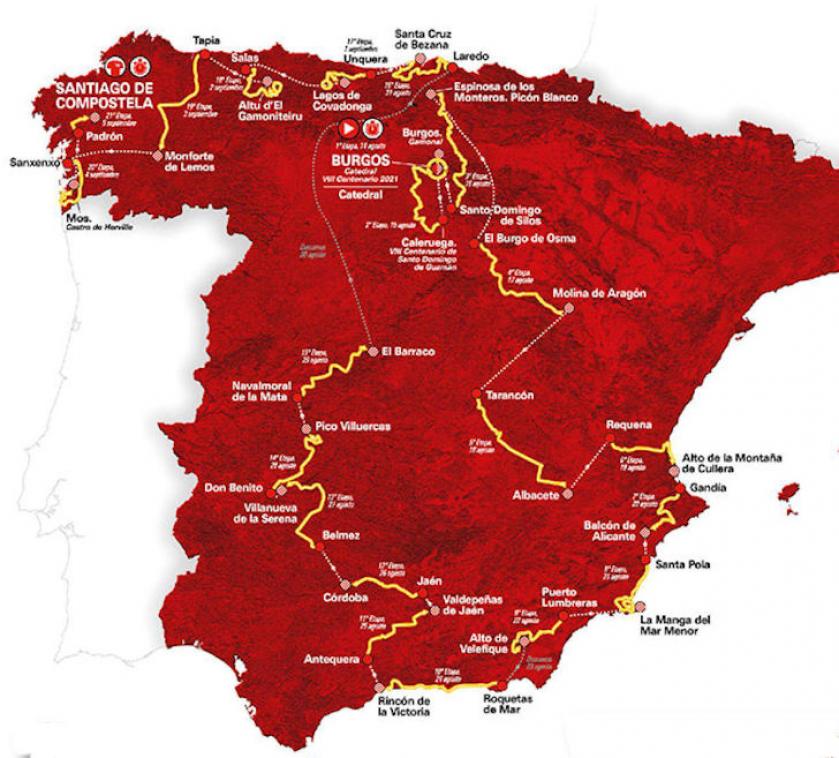 Vuelta 2021 at Costa Blanca and Costa del Sol
26.07.2021
The Vuelta starts in Burgos on Saturday 14 August, but on Friday 20 August the cycling round of Spain, the Vuelta, will return to the province of Alicante. The seventh stage starts in Gandía and after 152 kilometers the finish is at the Balcon de Alicante in Tibi. The riders will pass L'Orxa, Beniarrés, Gaianes, Muro, L'Alqueria d'Asnar, Cocentaina, Alcoi, Benilloba, Benasau, Alcoleja, Sella, Relleu, La Torre de les Maçanes, Xixona before battling for the stage win in Tibi .
On Saturday, August 21, the peloton will leave for the eighth stage in Santa Pola to arrive in la Manga del Mar Menor after a ride of 163 kilometers, after passing in Elche, Guardamar and Torrevieja.
Tuesday 24 August is stage 10, a race along the Spanish south coast. For most of the day, the riders will cycle westward with the Mediterranean Sea to their left. That means a sloping profile, but sprinters have virtually no chance. Flat roads alternate with ascending sections. That changes when the route leaves the coastal road at Velez-Málaga for a meander through the interior. After some slightly ascending stretches, after the town of Almáchar, it goes up a bit steeper. During 5.1 kilometers the riders have an average rise of 8% for the wheels. Once at the top there is still 15.8 kilometers to go.